Pequot Lakes Horseback Riding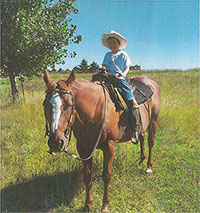 Here at Wild Acres we look forward to showing you and your family or group a great experience riding horseback in the woods and on the trails; looking at nature from different angles.
Ride horseback over 500 acres of beautiful out-back wooded trails at WILD ACRES.
You and your horse will have a truly serene time plus a great adventure on the miles of private trails.
The trails will take you through the hardwoods and evergreen forests past the ponds. I guarantee that you will experience the wild life and woods from a different angle.
If you watch closely, you will see the Beavers in the pond, or a White Tail Deer in the openings, Bald Eagles and lots of native wild birds including Wild Turkey and Pheasants that might cross your trail and once in a while even a lazy porcupine that is never in a hurry to get anywhere.
The 500 acres allows us to ride through the scenic back woods area where not many go.
The horses are friendly and each one has its own unique personality. No experience is necessary as the wranglers have a horse that will match any rider whether you are 7 years old or 99. All you need to experience the trail ride is the right attire; jeans, boots or sneakers. All the rest is provided.
Reservations Required!
Two or more riders are required!
Our morning trail rides start at: 10:00am and 11:30am
Afternoon rides start at: 2:00pm and 3:30pm
Our rides are 1 hour long.
All rides start from the hunting lodge.
To Make Reservations Phone: 218-820-9255
E-mail: mary@wildacresmn.com
Located at:
7047 Wild Acres Road
Pequot Lakes, MN 56472
3 1/2 miles from Highway 371 off County Rd. 16